About Us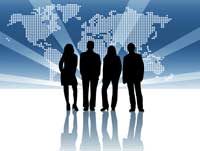 Our Mission:
To sell and market products for premier international manufacturers and converters of plastic and paper foodservice disposables, packaging, sanitation and janitorial items, tablewares, partywares, and all allied items to the institutional, industrial, safety, janitorial, and retail party goods industries throughout the United States of America.
---
Our Philosophy:
The BELLON philosophy is completely dedicated to the goal of helping customers and principals realize growth in the Central Midwest food service market.
The strategy of achieving this goal is by constant improvement of our sales and marketing expertise. This is not just a phrase – it's a total commitment to representative professionalism. From the completion of the three-year Certified Professional Manufacturers Representative (CPMR) course to our regular attendance at MANA sales seminars and informative education-oriented lunch sessions – we strive for excellence in all ways!
The BELLON fully computerized office is carefully organized for maximum efficiency for our customers and principals…for instant pricing, expediting, follow-up and close attention to detail.
A direct mail program and monthly newsletter to our customer base is utilized to backup and enhance field sales.
BELLON is Marketing Professionalism that Works!

---
History:
We are a Sole Proprietorship in business since August 1980 started by founder, Bourbon E. Bellon. We started in the institutional foodservice and grocery markets selling disposable foodservice packaging and allied products both direct to the supermarket trade and through established distribution channels, depending upon the size of the customer and specific market conditions. Since then, Bellon has expanded its scope to cover all foodservice disposables and allied products selling into the institutional and retail foodservice, jan/san, safety, party-goods retail, food processor, and laundry supply markets.
Bellon Sales Associates has had a long-standing history of marketing and selling both the innovative as well as the well-established business markets. For example, Bellon Sales Associates was the first company out selling disposable foam packaging alternatives in our foodservice markets. (Polytherm Plastics 1981) Bellon Sales Associates was also the first to introduce can liners on a hand held roll (Rollpack 1985), the low-cost polypropylene cutlery alternatives (Clearshield National 1986), high density saddle pack sandwich and food bags and polyethylene foodservice gloves (Handgards Inc. 1985), as well as a host of other new and innovative packaging concepts and food handling solutions that together have changed the way people in our markets perform day-to-day tasks making them more economical, productive or safer.
We have also excelled in marketing the well-established product lines to gain additional market penetration and increase profitable sales. For example, Bellon Sales Associates has marketed the well-established specialty paper bag markets, the jan/san chemical and brush lines, converters of tissue (napkin) and placemat products, party goods, … just to name a few. We continue to seek out new profitable markets to penetrate and through strategic planning we will continue to grow as a company well into the future.
There currently are three direct employees at Bellon Sales Associates covering customer service and inside sales to a full service professional outside sales staff with over 50 combined years foodservice related sales experience.
---
Meet the Staff:

Louise Bellon:
Louise started her professional career in 1958, after graduating from Indiana University with degree in nursing. She worked in nursing from 1958 to 1962. She then took time out to raise her five children until 1980, when she and Bourbon started Bellon Sales Associates. From the very beginning, she has managed all agency activities other than outside sales.
In 1982, the agency bought it first computer and the agency was computerized only one year after IBM introduced the PC. There was no packaged software programs at the time, so Louise with the assistance of a programmer, developed the first sales tracking and order entry program. Technology has always been on the cutting edge at Bellon Sales. Louise supervised all technology advances through 1989. She then turned over all the responsibilities to Michael Benz. She now continues to as primary office manager and customer relations.
Bourbon Bellon:
Bourbon entered the sales profession on completion of his military service in 1964. He completed his formal education in 1963, taking full advantage of all financial assistance through the U.S. Air Force.
He developed and honed his sales experience with Simoniz Company from 1964 through July 1969. At that time he joined the "rep" world as a salesman covering Indiana and Kentucky for a firm headquartered in Cleveland, Ohio. This agency specialized in disposable packaging for supermarkets.
In August of 1980, Bourbon and Louise established Bellon Sales Associates. The agency grew in sales volume and a new position and field office was added in Cleveland, Ohio in 1982. As sales continued to grow another position was added at the main office in Indiana and was filled by Michael Benz in 1989.
The rep business, like most businesses in recent years, has seen many changes and consolidations. During this period Bellon Sales Associates has remained independent and profitable.
Michael Benz, CPMR:
Starting in the foodservice business in 1989 as Network Administrator at Bellon Sales Associates, Michael has excelled into dual roles focusing on both sales and technology. He was instrumental in setting up and implementing new custom business operating systems that has kept Bellon Sales Associates on the edge of technology throughout the years.
At the completion of his studies at Indiana University in 1995, he entered back into the sales field covering the territories of Indiana and Kentucky leading these territories with a growth in sales every year. At the same time, Michael worked diligently setting up the Bellon Intranet System and new multimedia marketing mediums such as interactive CD-ROM product based catalogs integrated with basic web technology and the Bellon family of web sites, offering unparalleled access to product information and availability. This was teamed with excellent access to printed materials and point of sale solutions to bring a fully integrated marketing package to the institutional food service and janitorial distribution trades that it had never experienced before. Following this he returned back to school to complete his certification program as he continued to cover his sales territory duties and is now a Certified Professional Manufacturers Representative (CPMR).
As we head into new endeavors, we continue to explore all avenues of marketing including the "out of the box" type of thinking that has generated years of successful marketing trends at Bellon Sales Associates. With the help and guidance of our professional staff and proven marketing concepts, Bellon Sales Associates will continue to be the premier agency for years to come.